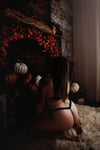 On sale
Let's get spooky!!!
These boudoir mini sessions can be done on October 24th, 25th, or 26th between 12 pm and 5 pm.
My studio will be all set up for Halloween so you can get some boudoir photos done in your favorite lingerie or you can dress up in a sexy costume of your favorite character.
If you are wanting to get your makeup done for your session, I can recommend two different makeup artists that do excellent work. You can do a creepy Halloween look or just a nice sultry makeup look.
SESSION DETAILS:
- 20 Minute Session
- 1 Outfit
- Halloween Studio Setup
- 5 Digital Images (with the option to purchase more if you would like)
Your photos will be presented to you in an online gallery where you can select the 5 digital images that you want as well as purchase any extras.
Message me about the discount you can get if you sign a partial or full model release of your photos!!